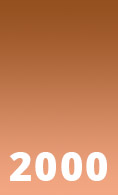 Artificial intelligence and the founding of encoway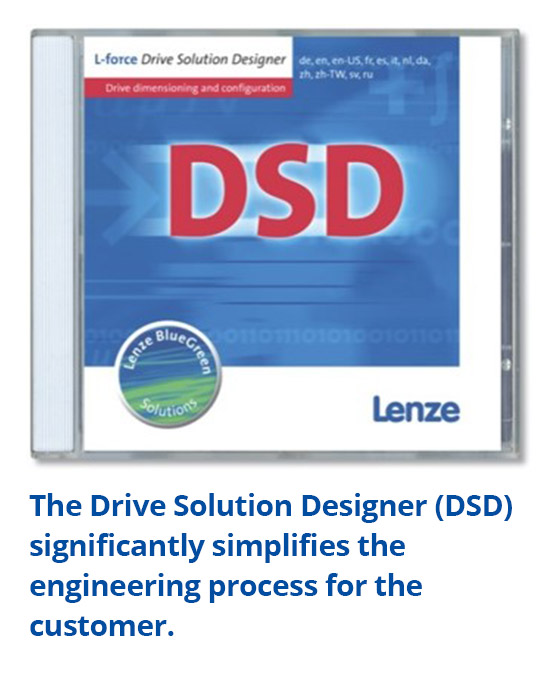 In 1997, Lenze agrees a collaboration with the Artificial Intelligence (AI) research group at the University of Bremen. Lenze invests one million deutschmarks in developing, with the university, a tool that will help customers to select the perfect product from Lenze's diverse range. That is no easy task when there are 1030 possible drive solutions and product combinations. But the project succeeds: in 2002, the university's IT department wins the Deployed Application Award of the American Association for Artificial Intelligence for inventing the Lenze Drive Solution Designer (DSD). Lenze's product configurator is one of only five applications worldwide to win the award.
Engineer Dr. Erhard Tellbüscher is now at the head of the company. In 2002, as planned, he has succeeded Dr. Lohse as Managing Director. He has already been with Lenze for a long time, and since the 1980s he has advanced the modernization of the production and the product range. Now he is in charge of Lenze's transformation into an automation specialist.
The DSD software greatly speeds up the process of planning and designing drive systems, and at the same time it reduces the error rate. If, for example, a Lenze sales employee wants to design drives for storage machinery, he feeds all the relevant data into the DSD, which then finds the most suitable motor, gearbox, drive controller and accessories.
The DSD also checks that the components are compatible, so that the motor flange and shaft go with the gearbox and the gearbox goes with the selected drive controller. Even complicated designs that previously cost experts a lot of time can now be solved by any user in a few minutes. At the end, the program creates a template for a quotation. By 2003, the DSD is already designing numerous solutions for line drives, traveling drives, hoists, positioning applications, conveyor machinery or air-conditioning technology.
Lenze has thus not only shown that AI can be deployed profitably in-house. It has also achieved the goal, defined at an early stage, of developing a marketable product. On the basis of the first software applications, Lenze is providing solutions that result in considerable savings in many companies: savings in time, energy and always in costs.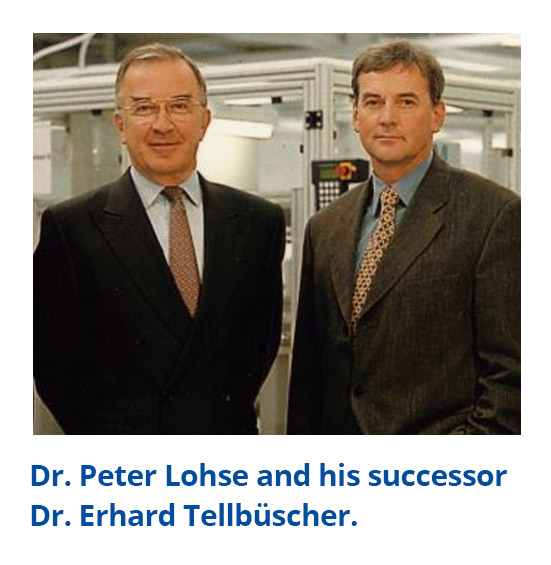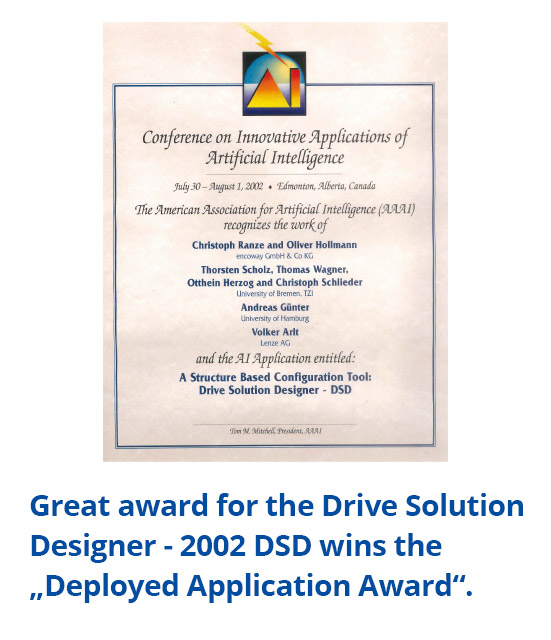 Other companies with a very diverse range of components also benefit from the new AI tool. With this in mind, Lenze founds the subsidiary company encoway in Bremen in the year 2000. "We wanted this technology, but we needed to create a viable business model to ensure that it was always as up-to-date as possible," explains the Managing Director of encoway, Christoph Ranze.
By 2005, encoway has established itself successfully in the market and by 2019, thanks to the strong trend for digitization, it has become the market leader in product configuration. Today, encoway has 200 employees and is a "leading full-service provider for everything connected with Configure Price Quote (CPQ) and for market-oriented variants management for the manufacturing industry in the D-A-CH region (Germany, Austria and Switzerland)."